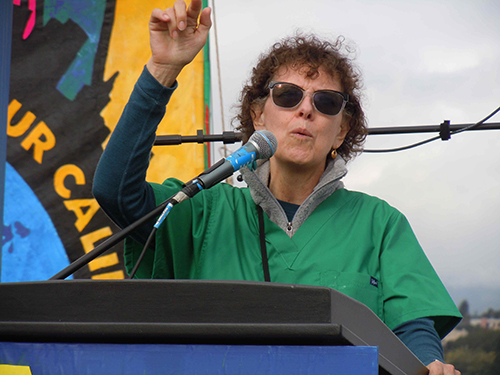 Some of my most important formative experiences included participation in the first Earth Day, in 1970, where we combined consciousness-raising about the critical degradation of our environment with a little bit of fun and creativity; being an active member of my nursing union (SEIU) and learning the power of collective demands and actions; working for the United Steelworkers Union and learning about the horrendous conditions that many workers are exposed to everyday; engaging with communities in Baltimore where children were (and still are) lead poisoned, exposed to hazardous waste sites, and suffer from asthma that is often associated with preventable exposures; collaborating with an amazing group of nursing faculty to develop the first Environmental Health Nursing Program in the country at the University of Maryland, where I learned the importance of nurturing the next generation of environmental health nursing leaders; lobbying against non-therapeutic antibiotics in agriculture, where I observed the power of corporations (and their unbound resources) to trump public health when it comes to legislation and regulations; being a member of the Children's Health Protection Federal Advisory Committee to the US EPA, where I learned about the many people who work in government and take seriously the government's role in protecting health; and working in a statewide coalition that is advocating for an end to fossil fuels while promoting a just transition, where I continue to learn about the ways that ordinary folk are transformed into leaders and spokespeople for some of our most vulnerable communities.
In the nineties, I had two long-term grants, one from the EPA to educate and train health professional, environmental technicians, and abatement workers regarding lead-based paint and the other from the National Institutes of Environmental Health Sciences for a community-based environmental justice program in Baltimore that focused on youth development and engagement in the environmental health sciences. These two programs helped to inform a range of city and state programs and policies to address a number of environmental health issues.
In 1993, I walked into the office of Andrew Pope who worked for the Institute of Medicine (IOM) and asked whether the IOM would be willing to look at the lack of environmental health in nursing, in the same way that had been done for medicine in 1985 and this resulted in the 1995 IOM report, Nursing, Health and the Environment which was chaired by Lillian Mood. In 2008, when I helped to launch the Alliance of Nurses for Healthy Environments, we used the IOM report's domains of nursing Education, Practice, Research, and Policy to frame our organizational efforts.
In 1996, in California, I was among a group of nurses, environmentalists, and others who met to discuss ways in which the health care sector was contributing to occupational and environmental health risks. Medical waste incinerators were the biggest contributor of airborne dioxins, one of the most carcinogenic chemicals known, as well as mercury. Waste segregation was almost non-existent in health care and mercury-containing thermometers and sphygmomanometers were used everywhere. We decided to work on these two initial challenges – medical waste and mercury – and launched Health Care Without Harm. As a result of this collaboration, we closed almost all of the nation's 5,000 medical waste incinerators and one is hard-pressed to find mercury containing products in health care anymore.
In 2002, with funding from a Baltimore-based consortium of foundations, I lead the effort to create the organization Maryland Hospitals for Healthy Environments, which was a 10-year project to initiate and promote sustainability efforts in Maryland hospitals around waste management, purchasing decisions, cleaning (including disinfectants and sterilization), energy efficiency, and food. A decade of additional funds from the USDA supported efforts to change the sources and quality of food being prepared and served in Maryland hospitals. Over a dozen hospital-sponsored Farmers' Markets were created, Meatless Mondays were initiated, and local farmers and growers were connected to new markets for their products, thus increasing the amount of local and sustainably grown and raised foods being bought by hospitals.
In the 2000s, I had another long-term grant from the EPA in collaboration with the Engineering Department of Johns Hopkins University to work with communities in which there were hazardous waste sites, both Superfund and Brownfields. In this same time period, I also worked with my nursing colleague Claudia Smith on a HUD-sponsored demonstration project to do lead abatement in low-income properties in Baltimore. Collectively, my work has always involved a great many graduate students, project staff, community partners, representatives of government agencies, and friends.
In 2012, I left Maryland and came to California. I am still in academics, now at the University of San Francisco, still teaching environmental health and nurturing our next generation of environmental health nursing leaders. I am still very active with ANHE and have been building ANHE's presence and activities in California. In 2017, I helped to usher the International Council of Nurses' Climate Change Position which was endorsed by 134 national nursing organizations. Currently, I am working on nursing and health as they relate to agricultural issues, fossil fuels, and climate change.